Tires & Wheels: Tire Rotation
Description: Tire rotation refers to the regular
practice of switching the position of each tire on the car.
​
Find out more about: Wheel Alignment here.
Purpose: Tire rotation helps to equalize tread wear and is critical
to gain the maximum life from your tire investment.
​
Maintenance Tips/Suggestions: Refer to your owner's manual for the recommended rotation interval and pattern; generally a rotation interval of 6,000 miles is recommended. The rotation pattern varies with different makes and models, which shows the tire locations during rotation. Some vehicles have different size tires on the front and back or directional tires. This limits the locations that a tire may take on the vehicle. When in doubt, check the owner's manual or consult one of our professional technician for guidance. Tire rotation time also offers a good opportunity to have the tires and wheels balanced. It's another step you can take to maximize your tire investment.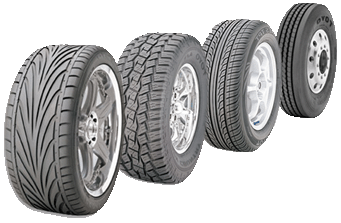 What do those numbers on your tires represent?
The numbers in the tire size refer to its width, aspect ratio, and wheel diameter. "185/75R14" means the tire is 185 mm wide, has an aspect ratio (that is, the width divided by the height) of 75%, and fits on a 14" rim.

"R" means radial tire. They're all radials nowadays. Speed ratings are usually inserted before the "R." The most common speed ratings are HR (good for 130mph), VR (149 mph), and ZR (more than 149 mph).
Servicing all of your tire needs from tire repair or replacement to wheel alignment, tire balancing, and rotation. While we are servicing your tires, we can inspect your brakes and suspension.
​
We offer a wide range of tires for your vehicle. Let our professionals help you find the right tires for your car.
Improve your vehicle's handling, increase tire life, and drive with safety by checking your tires every month to insure that they are inflated with the right amount of air pressure.
​
Find out More about: Tire Balance here
​
​