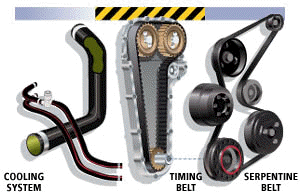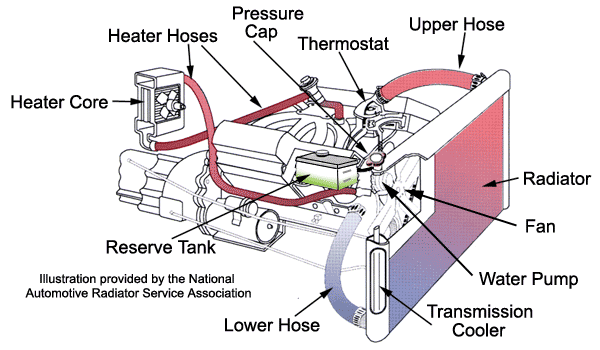 Most vehicle break downs today are related to belts, hoses and cooling system problems. Today's vehicles run hotter than ever before and have more packed into a tighter area than ever before. Belts and hoses are prone to cracking and deterioration from the elements. These items often can crack, leak, or fray from constant exposure to heat, vibration, and other harmful chemicals. If not properly maintained, any one of these could spell disaster for your engine performance.
Here are some of our recommendations to ensure belt and hose quality:
Visual Inspection of Belts
● Search for clear indications of damage (cracking, glazing, softening, or peeling)
● Test for correct tension
● Test for correct alignment
● Record belt condition for future reference
Visual Inspection of Hoses
● Search for leaks, cracks, hardening, or softening.
● Test cooling system for leaks using state-of-the-art pressure technology
● Record hose condition for future reference
Get your vehicle's belts and hoses inspected on a regular basis because damaged pieces can seriously harm your vehicle. Research shows that while most people get regular oil changes, they neglect the condition of their belts and hoses. A leaking hose or a cracked belt will cause you more trouble than an overdue oil change ever will.
Below are brief descriptions of some of the different belts and hoses we inspect:
Drive Belts:
The engine drives some of your vehicle's accessories. Instead of being supplied by electric power, these accessories rely on a series of pulleys and belts to operate. Some of these accessories include:
Power steering pump

Alternator

Air conditioning compressor

Radiator cooling fan

Water pump
​
Some vehicles require a single serpentine belt to power these accessories (as opposed to several individual belts).
​
Accessory Drive Belts
While some accessories in your car are electrically powered by the charging system, others use the engine itself as their power source. The power for these accessories is delivered by a system of pulleys and belts. Examples of these accessories are:
Alternator

Water Pump for engine cooling

Power Steering Pump

Air Conditioning Compressor

Radiator Cooling Fan

Many late model cars use a single serpentine belt in place of individual belts to drive these accessories.
Hoses:
If you think of hoses as your vehicle's circulatory system, then you'll have an appropriate representation of their importance. Hoses are composed of two rubber layers with fabric in between. Types of hoses vary on make and model, but typically include:
● Fuel hose (sends gasoline from the gas tank to the engine)
● Radiator and Heater Hoses - These hoses convey coolant to the engine and heater core.
● Power steering hose (connects power steering pump to steering equipment)
Serpentine Belt
You know that long belt that snakes around the front of your engine? It's called the serpentine belt. The serpentine belt is driven by the engine as it turns. It powers your alternator, air conditioning compressor, and power steering pump. On some vehicles it also runs the water pump, radiator fan, and power brakes. Sounds like a lot of important stuff doesn't it?
​
If your serpentine belt were to break on one of our roads, your battery would die in a few miles. If it runs your fan or water pump, your engine could overheat. And steering and braking could be more difficult. Obviously, the best thing is to replace your serpentine belt before it breaks.

Check your owner's manual for when it's recommended that you replace your serpentine belt – or just ask our service advisor for assistance. We can inspect the belt as well to see if it's in trouble.

You may have been told by a service adviser to look for cracks in your belt to see if it needs to be replaced. Of course, cracks are still a concern, but modern belt material doesn't crack as often as old belts did. What we look for these days is the thickness of the belt. There are tools available that measures the depth of the grooves in the belt to see if it needs replacing.

A worn belt can slip (squeal) or be misaligned, putting undue stress on the accessories it runs.

Now you can imagine it's important for the belt to be tight, so there's a tensioner pulley on your engine that puts pressure on the belt to keep it at the right tension. The spring on the tensioner wears out over time so we recommend replacing the tensioner pulley at the same time as the serpentine belt.

Replacing your serpentine belt on schedule, or when an inspection warrants it, will keep you from an unexpected breakdown.
​
See More Here: Serpentine Belt Replacement
TIMING BELTS .... WHAT ARE THEY?
Piston engines can generally be divided into two groups-Interference AND non-interference engines.
If a timing belt breaks on a non-Interference engine the engine will 'free-wheel' and the piston will not contact the valves.

On the other hand, interference engines will not 'free-wheel". Severe valve train and piston damage can result if the timing belt breaks while the engine is running.
TIMING BELT REPLACEMENT GUIDE
Most manufactures have recommended replacement Intervals for replacing timing belts. A typical service Interval in between 50,000 and 60,000 miles. It is important to replace timing belts at recommended Intervals even if the vehicle has a non-interference engine. Proper maintenance prevents expensive tow bills and possible accidents due to loss of engine power while traveling at highway speeds.
​
See More Here: Timing Belt Replacement
​
​
RADIATOR HOSE REPLACEMENT
​
THE BASICS BEHIND RADIATOR HOSE REPLACEMENT SERVICE
Your car or truck's radiator hoses, which connect the engine to the radiator, are important components that maintain consistent internal engine temperatures. The upper hose connects to the top of the engine, while the lower hose connects to the bottom. Coolant flows through the engine to cool internal temperatures and works with the hoses. Radiator hoses carry hot coolant away from the engine and into the radiator, a large tank with small channels where the coolant flows to dissipate heat. Radiator fans, which are located behind the radiator, help cool the antifreeze or coolant once it enters. The radiator hoses also carry the coolant back into the engine to absorb the heat created during the combustion process. Once the engine reaches operating temperatures, the hot coolant cycles back to the radiator where it is cooled again. Because the engine can reach extreme temperatures, the coolant is often extremely hot. Over time, hot coolant can cause radiator hoses to deteriorate from the inside out.
​
WHY SHOULD YOU HAVE RADIATOR HOSE REPLACEMENT SERVICES PERFORMED?
Replacing your radiator hoses is one way to minimize the chance of engine failure and breakdowns. A visual inspection of your hoses can help you determine the proper time to replace them. Cracks, bulges, and hardened hoses are all signs that your radiator hoses are nearing the end of their useful life. Poor heating system performance also indicates a problem with your hoses. Heat, vibrations, and corrosion are all contributing factors to bad radiator hoses. A coolant leak in either green, red, or yellow liquid is another warning sign of a cracked or corroded radiator hose that should be replaced. Bad hoses can cause serious engine damage through an overheating engine or catastrophic failure. At the first sign of a bad radiator hose, be sure to contact our service staff to have your radiator hose replaced.
​
Radiator and Coolant hoses
​
Radiator and coolant hoses are vital to keep your engine from overheating. With time and use, hoses become brittle and weak. Don't wait for a failed radiator or coolant hose to leave you stranded.
Coolant System Components:
Heater Core

Heater Hoses

Pressure Cap

Thermostat

Upper Radiator Hose

Radiator

Fan

Water Pump

Transmission Cooler

Lower Radiator Hose

Reserve Tank

Antifreeze
​